Microfinance Institution (MFI) grading is an all-comprehensive assessment of financial and business performances of MFIs to provide an opinion on their capacity to carry out operations in a sustainable manner. It provides an independent expert assessment on MFI's relative performance, benchmarked against the industries and risk management practices. It is aimed at facilitating market participants, MFIs, lenders, investors and regulators with detailed information and statistics on their operational, financial and strategic performance. MFI grading thus is an important tool for business and investment decisions.
Independent third-party opinion
Provides unbiased rating to MFIs, enhances credibility, and also helps adopt good governance policies for sustainability.
Builds confidence with business partners
A good rating provides comfort to lenders, including bankers, financial institutions, NBFCs and collaborators to partner with the related MFIs.
This helps the rated entity to identify areas of improvement and plan for corrective measures.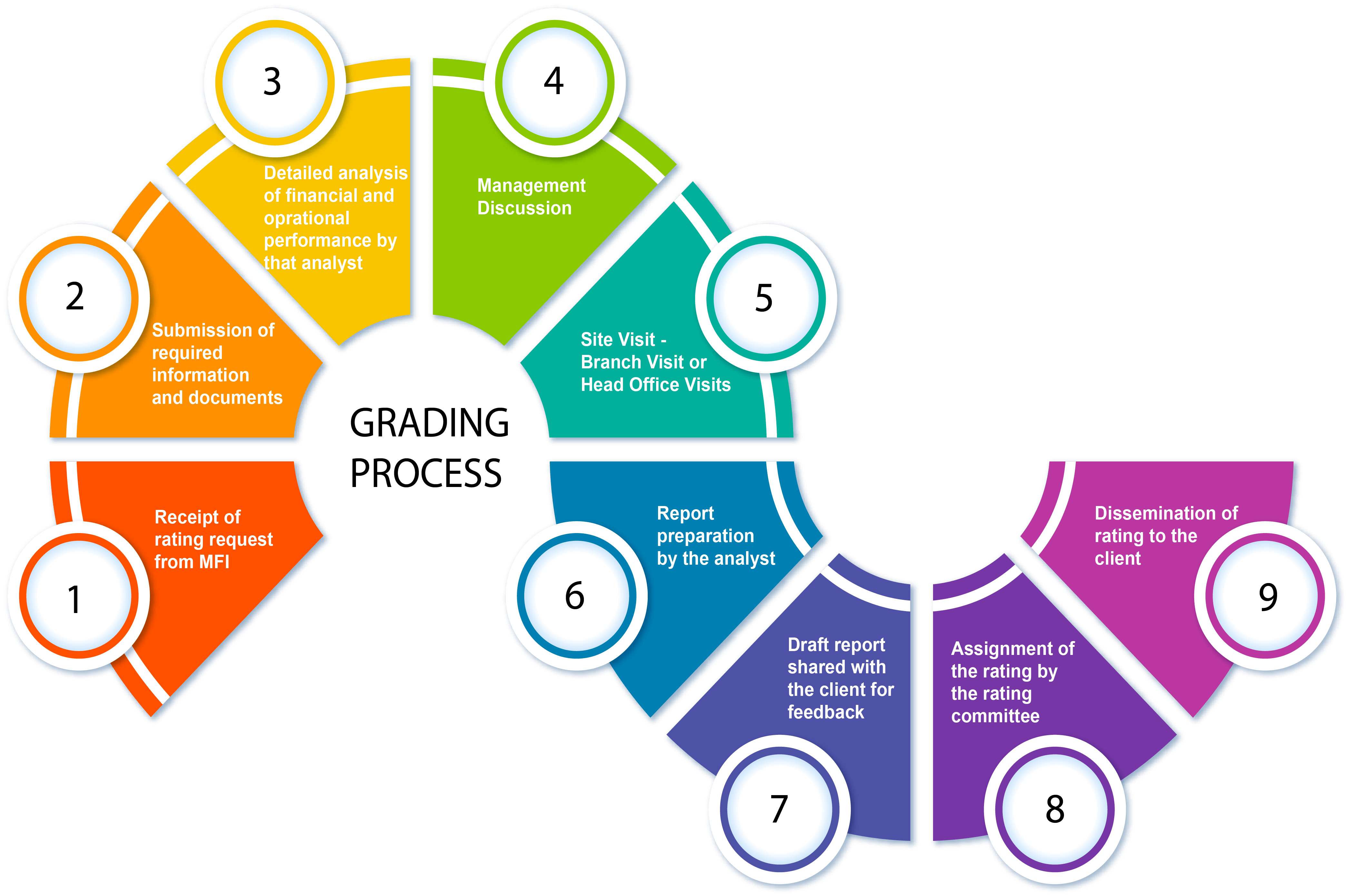 Receipt of rating request from MFI
Submission of required information and documents
Detailed analysis of financial and oprational performance by that analyst
Site Visit - Branch Visit or Head Office Visits
Report preparation by the analyst
Draft report shared with the client for feedback
Assignment of the rating by the rating committee
Dissemination of rating to the client
Highest capacity of MFIs to manage their microfinance operations in a sustainable manner
High capacity of MFIs to manage their microfinance operations in a sustainable manner
Above average capacity of MFIs to manage their microfinance operations in a sustainable manner
Average capacity of MFIs to manage their microfinance operations in a sustainable manner
Inadequate capacity of MFIs to manage their microfinance operations in a sustainable manner
Low capacity of MFIs to manage their microfinance operations in a sustainable manner
Very low capacity of MFIs to manage their microfinance operations in a sustainable manner
Lowest capacity of MFIs to manage their microfinance operations in a sustainable manner